Geology
The imposing limestone cliffs of the Bluff at Barwon Heads, Victoria, are a spectacular symbol of the beauty and diversity of our marine and coastal environment.
Basalt Boulders
The indiscriminate jumble of basalt rock and boulders with shallow pools from a receding tide create a labyrinth of habitat for some remarkable Bluff Life.
Search gently amongst the rocks for orange, blue, green or grey seastars; armour plated chitons, and the largest mollusc on the Bluff – the Elephant Snail. There are large grazing snails like the Common Warrener Snail; active predators like Dog Whelks. And crabs – Red Notched Crab, Shore Crabs, Hairy Stone Crabs and the highly camouflaged Decorator Crab.
Many of the animals live on the underside of boulders so gently put the rocks back as you found them.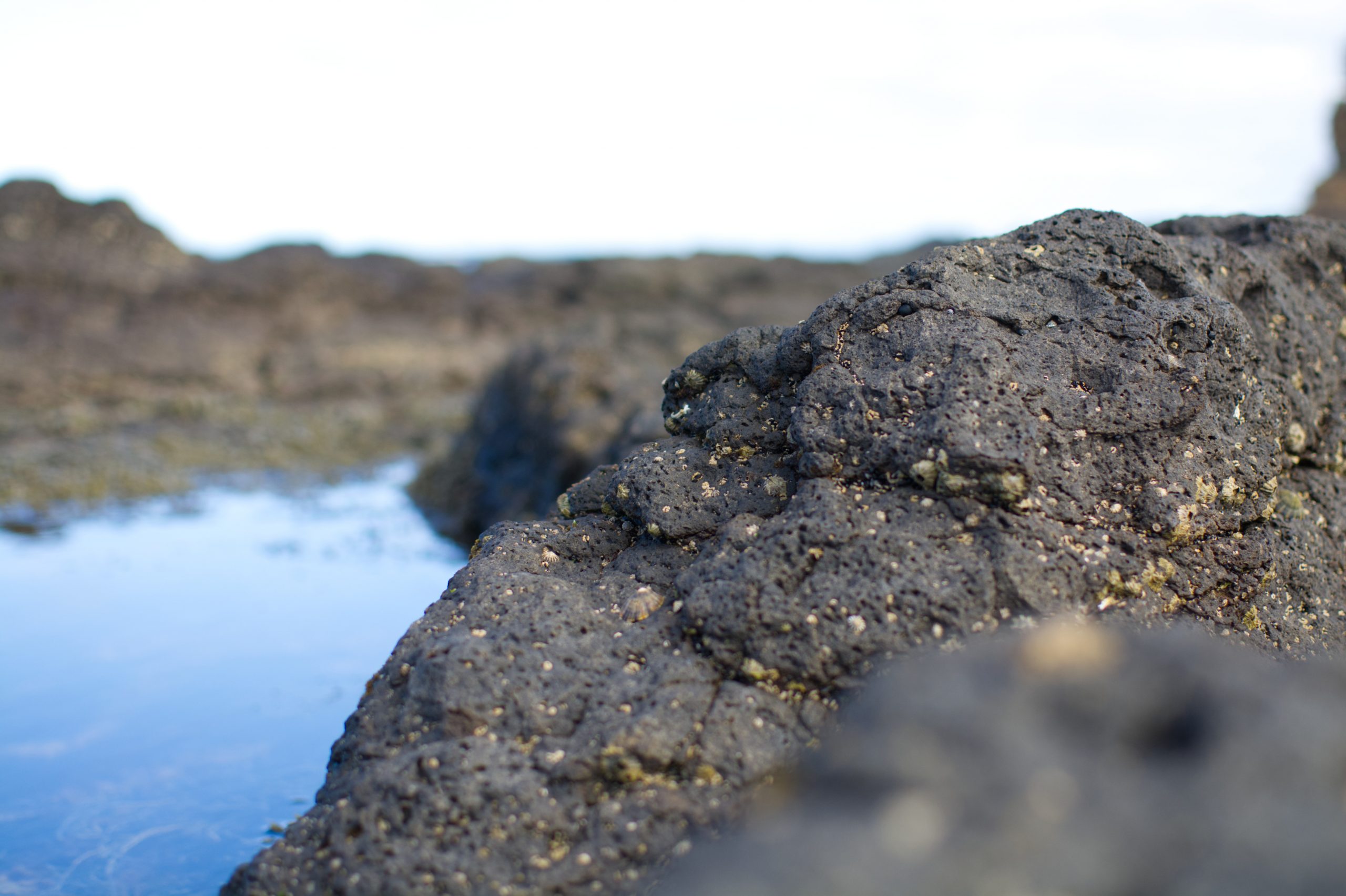 Calcarenite Rock Platforms
This broad flat calcarenite rock platform, dotted with rockpools and dissected by deep gutters is one of the jewels of the Bluff. A rockpool rambler's paradise, layers of algae line the pools providing habitat for anemones, crabs, seastars, Cunjevoi, Sea Tulips and small fish. The great nocturnal predator of the reef, the Maori Octopus may be seen in rockpools when low tide and good torches coincide.
Everyone's favourite, the distinctive 'string of pearls' seaweed, Neptune's Necklace, forms a living carpet across the rock platform. It is vulnerable to trampling so tread carefully. The rockpools area is slippery and it is a must to check the tides. Rogue waves DO exist. Great care should be taken.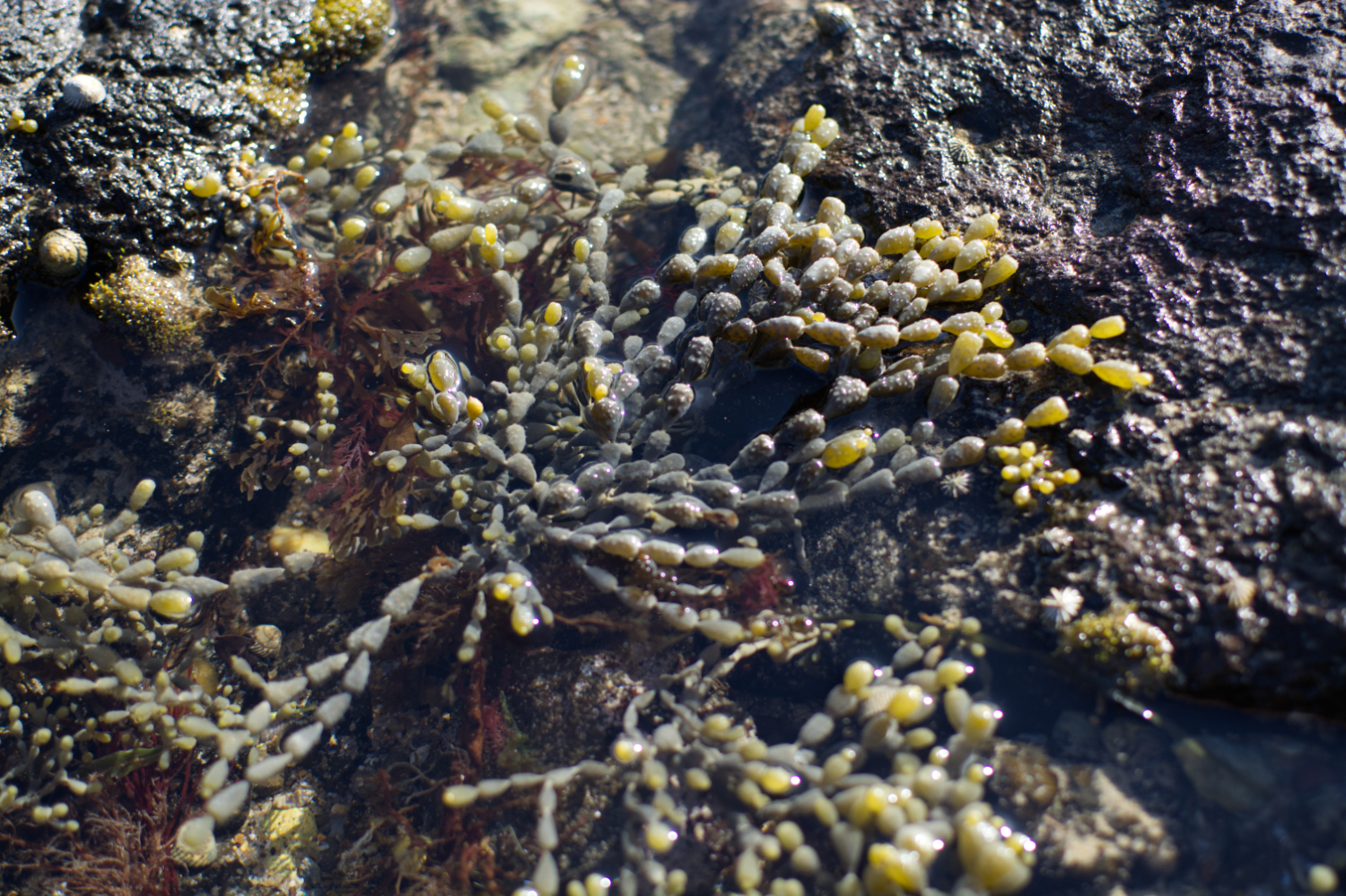 Estuary Facing Dunes
Where an outgoing tide meets the waves refracting around the Bluff is a narrow riot of fallen rocks, beach wrack, debris and detritus. Fallen rocks become habitat for encrusting worms and grazing molluscs in the splash zone.
Dozens of different green, red and brown seaweed make up the tangled piles of washed up wrack hiding shark egg cases, cuttle skeletons and puffer fish bladders. Meanwhile a myriad of insects help convert the mass to nutrients. The Bluff has been eroding for eons and this process continues today as soft dune sands succumb to time and weather. Tussock grasses, Coast Twin-leaf and Coast Daisy-bush continue to find a foothold here.
Please stay off this fragile cliff and observe the warning signs.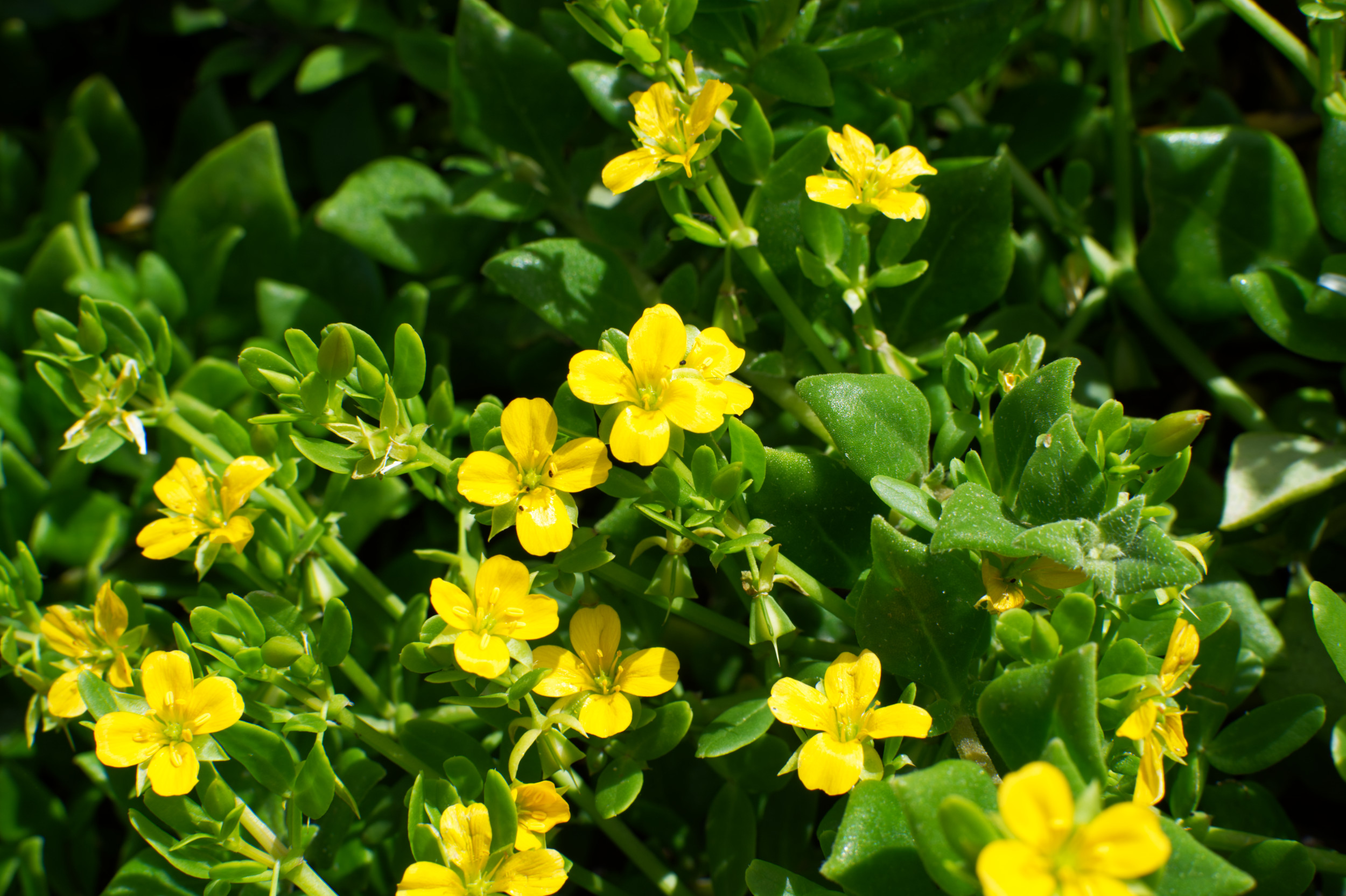 Lava Flow
This broad, flat, bare sheet of basalt is a reminder of the power of ancient volcanoes that shape our landscape. Lava flowed east from Mt Duneed (16 km west) a million years ago to create the foundation of the Bluff. Here you can feel the flow of this ancient river of rock. But the hard black basalt is a tough harsh environment to live in. So search the cracks and fissures for glossy Black Nerites and Ribbed Top Snails grazing on a wealth of algae or sheltering with barnacles. Even in this tough place there is life on the edge.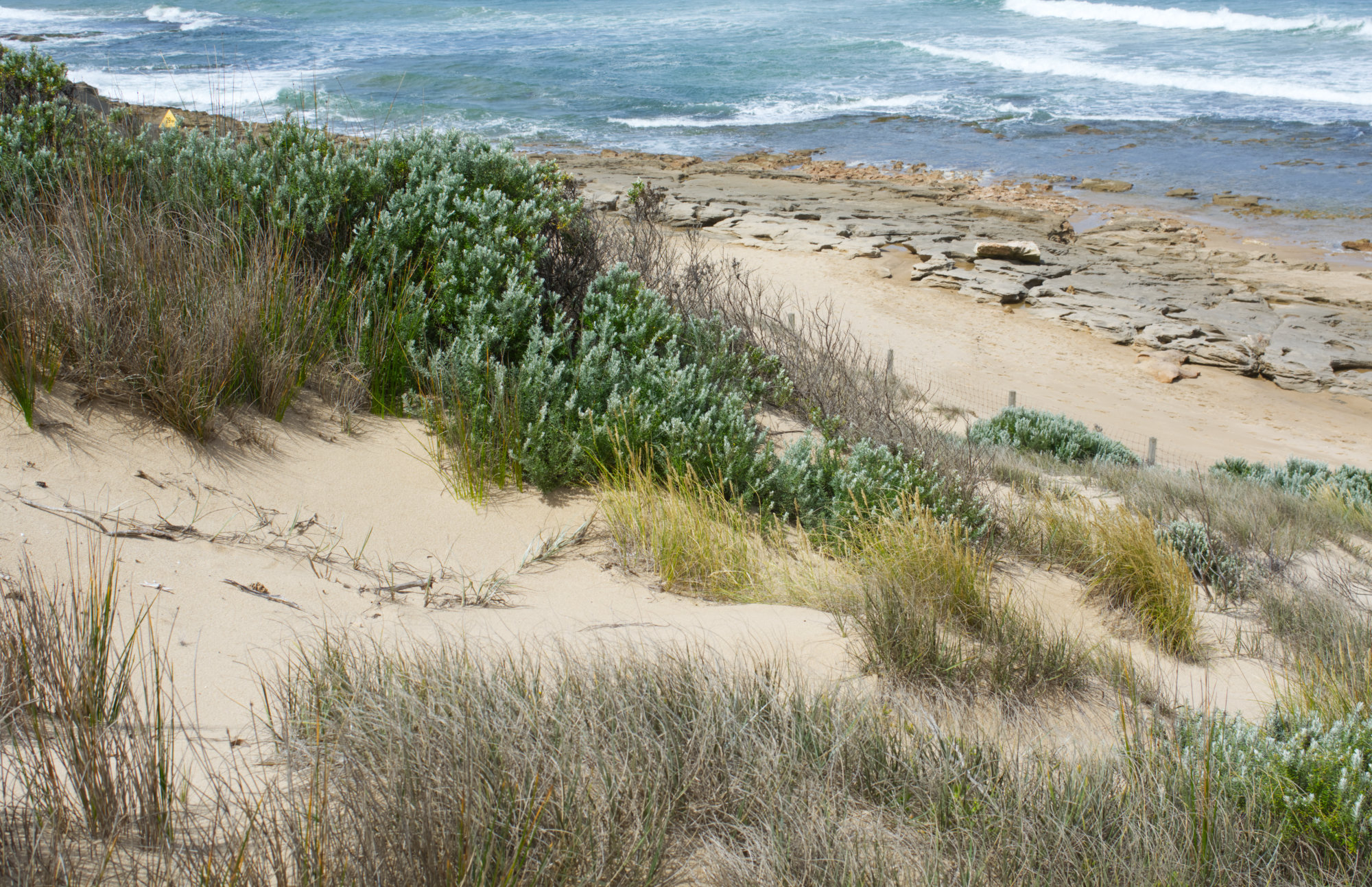 Ocean Dunes
The long sweep of 13th Beach stretching to the west is a dynamic shoreline of constant surf and formidable dunes. While a recreational haven for surfers and beach goers, salt laden winds (seaspray) and shifting sands makes the coast a challenging place for plants and animals.
A wide variety of plants bind and shape the dunes. Trailing Hairy Spinifex, Cushion Bush and Dune Thistles are common in the swales. Coast Beard Heath, Coast Daisy-bush and Thyme Rice-flower thrive while large tussocks of Coast Spear-grass give protection to smaller plants and a home to reptiles and insects.
Above the dunes Nankeen Kestrels defy gravity while out to sea free-wheeling Australasian Gannets dive with military precision. Shorebirds including the endangered Hooded Plover chase the receding tides for food and seek refuge in the seaweed wrack at high tide.
Please observe the warning signs in Hooded Plover habitats.